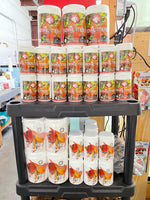 Myrtle Beach Discus
Royal Menu Flakes
Actual Food Fed in House.
ROYAL MENU Flakes, developed by a professional breeder of Discus, are a unique combination of ROYAL MENU formula with addition of black mosquito larvae for better reproduction. Complete full-featured extruded fish feed formulated in detail to target all nutritional requirements of demanding fish. The flakes are easy to digest and do not cloud the water.
The ingredients chosen without compromise, ensure optimal growth, a properly functioning digestive system, a functional immune system and a strong coloration. These qualities guarantee an optimal development, spontaneous reproduction and longevity.
The formulation containing herbs, Chia seed oil, Shiitake mushroom, prebiotics, probiotics and other special ingredients (see the complete list of ingredients in the appendix or on the packaging) helps proper functioning of the digestive system of fish. It boosts the immune system of fish, enhances the coloration, vitality and longevity of fish in your tank. These flakes have professionally developed formulations which place them on the top of feeds in contemporary aquarists.
Ingredients: Beef protein, krill meal, squid flour, insect proteins, fish meal, rye, rice, wheat, black mosquito larvae, crustacean flour, dried algae Chlorella and Spirulina, salmon oil, brewers yeast, zeolite, medicinal herbs mixture, Shiitake mushroom , Chia seed oil, red pepper pigment, amino acids, prebiotics, beta glucans and mannan oligosaccharides, probiotics.
Guaranteed analysis: Protein 47.8%, Fat 8.5%, Inorganic matter 7.7%, Fiber 1.9%
Additives / kg: vitamins: A (3a672a) 32000 IU, C (3a300) 240 mg, D3 (3a671) ) 2400 IU .; with colorants, microelement compounds: Fe (3b103) 39 mg, Mn (3b502) 49 mg, Zn (3b603) 48 mg; with antioxidants
Feeding dose: Feed the fish few times a day with what they can consume in 30 minutes. Do not over feed the fish. There are different particle sizes for different species and stages of growth from fry to adult fish. Not for human consumption! STORE IN A COOL, DRY PLACE!