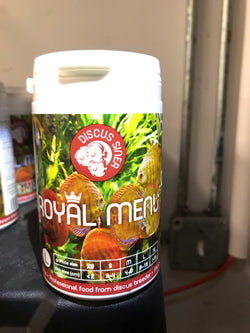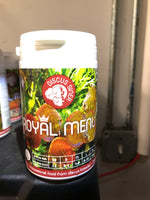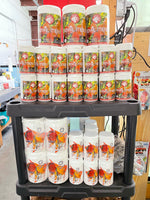 Myrtle Beach Discus
Royal Menu Discus Food
Premium Royal Menu Discus Fish Food.
Buying Options. Each bottle is 300ml.  
S (Fry size-2.5in)
M(Juveniles 2.5-4in)
L (4in up)
This food was formulated by a professional breeder of discus fish and the composition is of the highest quality.
The ROYAL MENU granules were developed for discus fish, angelfish, wild-type catches and similar kinds, but it is also suitable to feed other aquarium fish.
Due to the line's composition which contains herbs, chia oil, Shitake mushroom, prebiotics, probiotics and other special ingredients (see complete composition in the appendix or on the packaging), it helps support proper digestive system functions,
thereby increasing their immunity. Fish will be healthy, beautifully colored and enjoy a long life in your aquarium. These granules have a professionally developed composition, that puts them at the highest tier of modern ornamental fish feeds.
They have a wide range, suitable for all sizes of fish. We offer them in five sizes from fine powder for very young fish (size XS) to size S, M, L to XL for fish 15-20 cm

Meets all nutritional requirements of demanding fish such as discus, scalar, wild fish and other similar species. The granules are easy to digest, soft, slow-sinking, do not expand in water, and do not crumble. Without compromise, the selected raw materials ensure optimal growth, a well-functioning digestive system, an efficient immune system, and striking color. These attributes guarantee your fish healthy development, improved reproduction and longevity.
Composition:Beefprotein, krill, squid meal, insect protein, fish meal, rye, rice, wheat, shrimp meal, dried algae Chlorella and Spirulina, salmon oil,brewer´s yeast, zeolite, mixture of medicinal herbs, mushroom Shiitake, Chia seed oil, red paprika pigment, amino acids, prebiotics, mannan-oligosaccharides and beta-glucans, probiotics.
Analytical constituents: protein 49 %, fat content 9 %, inorganic matter 8,2 %, crude fibre 2,4 %.
Feed additives/kg: vitamins: A (3a672a) 32000 IU, C (3a300) 240 mg, D3 (3a671) 2400 IU; with colourants, trace elements: Fe (3b103) 39 mg, Mn (3b502) 49 mg, Zn (3b603) 48 mg; with antioxidants.
Feeding dose: Feed the fish few times a day with what they can consume in 30 minutes. Do not over feed the fish. There are different particle sizes for different species and stages of growth from fry to adult fish. Not for human consumption! STORE IN A COOL, DRY PLACE!