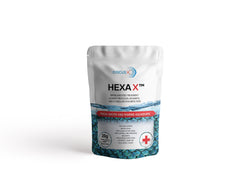 Myrtle Beach Discus
Hexa X (Metrodazinole)
Description
HEXA X is a treatment for ornamental fish in case of protozoal and flagellate infection. ex: Hexamita 

When to use it?

Use HEXA X when your fish show one or more of the following signs:

- Stop eating
- White feces
- Hole in the head and lateral line erosion aka HITH
- Hexamita and protozoal infection
- Lethargy, dark or dull body color
How to use it?
HEXA X can be administered in bath or in food. Bath treatment is better conducted in hospital tanks. However, it can also be done in display tanks.
Keep the filtration on and feed normally if the fish are eating.
Bath Treatment
add 1 level of included spoon (0.5g) for every 40 liter (10 US gal), change 30-50% of the water daily and repeat the full dose for 7-10 days.
Don't stop the treatment before 7 days even if the symptoms have disappeared.
Food treatment
Add 2 level of included spoon (1 g) to every 100 gram of prepared gel food and mix it thoroughly. Feed the fish twice a day from this food for 6 days.
Ingredients: (2-Methyl-5-nitro-imidazol-1-yl)ethanol
Caution: Not for human consumption or animals meant to be used for human consumption. For use with Ornamental fish only.
Orders take 2-3 days to process before being shipped out. If you need it sooner please send us a message. Overnight shipping is extra. 
*Please do not overdose. Use at your own risk. Myrtle Beach and its affiliates are not responsible for misuse of this product.